---
The days are getting hotter, students from all around the globe waiting for 24th march, the day Google starts accepting proposal for this years summer of code program. More and more students are attracted to FOSS development by such a single program. You can see this if you visit the GSoC mailing list or IRC channel. I am really happy since most of the newcomers are Indians. Actually there was a great effort from various organizations to motivate students.
Whenever I enter into an IRC channel, I usually listen to see what is going on there. Last day when I was there in a high traffic IRC channel of a major project, serious discussions were going on between a student and a developer. It was clear from the way of asking questions, that the student is new to the field of open source development. He was repeatedly asking how can he participate in GSoC and as usual the developer asked him to visit the GsoC 2008 web page and also to read the faqs. But the student was complaining that he is really confused by seeing those stuffs there in those pages. so he was asking the developer to help him. At last the developer explained everything in detail and the happy student left the channel saying that he would meet him the next day.
Really I was stunned by seeing such a behavior in an irc channel and also felt respect to the developer for his patience. I thought everything was over, but just after the student left the channel, the co-developers started discussing on the ongoing approach of students from X country. They called 'bad X students' and also one among them told, it had been clear from last years proposals that
"students from X country are always dependent on others". Actually, they were trying to generalize the attitude/behavior of students from the country. It was clear from their words that they are not going to read any proposals from those students.
Students, so you have to be serious when you start with GSoC. "I am not a master. Even then within the limits of my experience these are some of my advice to applicants."

Try to learn things yourself ! : You should have enthusiasm to learn new things. I am not talking about those who simply boast that he/she is very happy to learn new things. If you consider the behavior of the above mentioned student, he is simply saying he is really confused by seeing the GsoC faq. You shouldn't do like that, you should try to read and understand yourself. How can an organization accept a proposal from a student who can't even understand a simple faq?
IRC channel and Mailing List
: These two are the places where the discussions of development projects take place. Here you can find developers and you can have discussions with them.


IRC Channel
Install xchat or some other IRC Client.
In debian :

$ apt-get install xchat
IRC Channels are not just like your chat rooms. You need to understand some of the
basic things
before entering such a channel. Also
Hi/Bye
: It is not necessary to greet everyone personally. A simple 'hi' is enough and never expect everybody to greet you back. The same applies to good bye.
Be a good listener. You wish to get answers to your questions as soon as possible, but the people there in an IRC channel might be answering to some others question. Sometimes they might be in serious discussions or meetings. Understand that their time is valuable as yours! Listen at least one minute to get an impression of what was discussed.

Mailing List
What is a mailing list? I am sure most of you might be a member of at least one such groups either Google groups or yahoo groups. so I don't want to explain that to you. But you have to follow some simple rules when you post your reply.
Post below the quoted text, because top posting breaks the logical sequence.





Quote what's needed to get context. It's better you delete those unwanted sentences, otherwise it will be waste of resource and attention.

mobz

.

Current Location:

Thrissur

Current Mood:

busy

Current Music:

enkathale enkathale..
---
Last thursday I got a chance to deliver a talk at Sreekrishnapuram Engineering college for Swathanthara Malayalam Computing. Actually Syam was the one who would have share that session with Hiran. But unfortunately he was ill and I took up the responsibility.

Fahad was there to accompany me. By the time we reached there Hiran finished with his session on freesoftware and ethics. Since they found some difficulties in scheduling the talk, smc got its next session only in the evening. So spent some time there in a temporary classroom and we got enough time to do some final touches in our presentation slides.

Hiran started the session by giving an introduction on Swathanthra Malayalam Computing(SMC) team. My job was to give an idea on SMC's contribution to language computing and also to motivate the students to participate in google summer of code 2008. I hope this time SMC will get more GSoC students from GEC Sreekrishnapuram.

mobz

.

Current Location:

Thrissur

Current Mood:

calm

Current Music:

oru kunjupoovinte ethalil..
---
Linux for you magazine
announced this year's
foss india awards
. Out of the 20 award winning projects two are from
swathanthra malayalam computing
. Really happy to tell you that our work indic language support in tuxtype
also marked it's name in the winners list. I hope this will help the software to reach to more people and also to attract more developers to the smc and
tux4kids
communities. The other project from smc is the
dhvani
text to speech framework for indic languages by santhosh thottingal.
Thanking you all for your motivation and support...
mobz.
.
Current Location:

thrissur

Current Mood:

happy
---
"Free as in free speech, not as in free beer"!!, the words of RMS. May not be anything great in saying this to you, GNU/Linux gurus. But if I say I got a chance to hear it from RMS. How is it? great!!
Yes, last Thursday it was the inauguration of new M.C.A block of U C College. They got RMS for the same. There he also made an excellent talk on " Free software ethics and in practice". Great day!!
mobz

.

---
Once again went to same place for same event. This time we haven't taken one laptop so I couldn't blog from J N Tata Auditorium, where India's biggest free and open source software conference held from december 4th to 8th.
"This year, our event has even greater focus on development and contribution, and this has brought about a number of significant changes." The words by Atul Chitnis the project lead, foss.in in the conference had book. This time so they introduced "project days", so that one can learn about a particular project and he/she can contribute to it.
First day, I attended the project day of GNOME, my favorite GUI. But let me tell frankly the order of talks was not in increasing complexity. Since I wasn't familiar with the GTK codes, just expected a talk on that subject but there was one not on the basics rather on multithreading in GTK. Even then I managed it since those were "c codes". The speaker, Andrew cowie handled the audience perfectly, he even gave cookies to those who were sleeping in the conference hall. I also attended the talk by

Mairin Duffy on

How to Contribute to GNOME as an Artist or Designer, talk by

Runa Bhattacharjee on GNOME translation project and also the workshop by Ritesh Khadgaray.
Second day, the project day of Indlinux- talks by foss contributors in
India
gave me a chance to see and interact with them. The day was special for smc team since in a short span of one year, in its rebirth we came up with two talk sessions. Santhosh's workshop on his text speech system and shyam's workshop on speech recognition were some of the talks on the day in which the delegates had shown a special interest. Great work Santhosh and Shyam!!
Third day, the main conference inauguration ceremony started with Athul's talk. Five indian contributors including Runa bhattachargee and Gora Mohanty officially inaugurated this year's foss.in. This year they reduced the number of talks so that delegates can hear the talks in a relaxed mood rather than running to attend the talk in the other hall when it is the time to start the discussion. This gave ample time for us to move from one to another after each one. This time it is not Suparna rather Naba Kumar was the keynote speaker. His talk was on Anjutha DevStudio. Anjutha, his wife and his kid were there to listen to him. This talk was followed by James Morris talk on how and why you should be a Kernel Hacker. In the after
session I attended a talk on tuning linux in to an rt kernel by Thomas Gleixner.
Talk on Union mount by Bharata B Rao was the first talk I attended on the day four. I also attended another talk on testing linux kernel by Kamalesh Babulal. These two talkers were from IBM. Really IBM is doing some core stuffs in GNU/Linux. The last talk session was really interesting since it was nothing but the Lightning Talks. This was meant for delegates, here he/she will get 3 minutes to speak and can speak on any subject.
Fifth day, Andrew cowie started with his tutorial on User to Hacker in 90 minutes. smc team called a bof on foss in education. I have also participated in it. This time only I noticed the OLPC laptop. It is really cool. Just I had a discussion with its developer on packaging tuxtype along with it when we were in the main auditorium to attend Rusty and Friends- the last session on the day. Rusty came to the stage and he had an informal chat with the audience. Here he reveled the story how he became a kernel hacker. At the end he called up those who contributed to the foss project to the stage. Then he called up all those who use foss to the stage. After a moment what we have seen was, we the audience on the stage and Rusty is sitting on a chair in the auditorium, as a listener. Then he asked some of those who were standing in the front to talk for 3 minutes on their contribution. Oh! What a moment that was speaker takes the role of the audience and audience takes the role of the speaker. It was the right curtain down of such an event. This was followed by the official curtain down by Atul.


This year me, Sreerenj, Anson, Aswin and Nikhil were the team from s7 cse. On the other hand 7 fifth semester students were there from GEC Thrissur. I met Tinku and Unni, my seniors in the college after a long gap. And also this year's foss.in was special for me since I could represent smc team along with Anivar, Hiran, Santhosh, Suresh, Shyam, Anoop and all.

mobz

# feel like some thing is becoming more powerful in me, nothing but the motivations to learn more and more.
Current Location:

Thrissur

Current Mood:

awake

Current Music:

Masha-Allah...
---
summer of code
final evaluation is over and also uploaded the code sample to google. Among 900 participants of this year 81% of participants completed their work successfully. really happy to see our work, malayalam typing tutor(idea of
swathanthra malayalam computing
) in that list. I thank everyone who has a part in this work( i know its a long list starts with the god almighty and ends with all those friends who gave motivation and support ). These are some of the screen shots of malayalam typing tutor.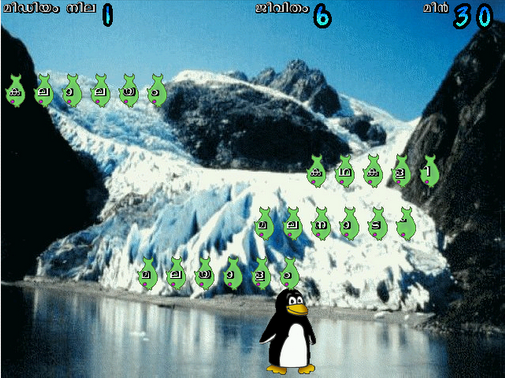 see the
wiki
for more details.
really happy to see a good article in
mathrubhumi
about our work.
swathanthra malayalam computing this time celebrated software freedom day in full swing. see
anivar aravid's blog
santhosh thottingal's album
pramode sir's blog
album
mobz
# busy with studies for s6 university exam
Current Location:

Thrissur

Current Mood:

busy
---
Just i passed through another milestone in my life. Nothing, but my 21st birthday. It was another colourful day in my life. And the day shown me the friendship network i have. Wishes came from family members, friends and all. See...
Phone Calls : 6(family) + 7
Messages : 17
Orkut Scraps : 52
and many personally

In the evening we found some time for a small treat at city center (bay leaf). Since we have study leave now. it was too difficult to collect everyone. So i called only those friends wished me on the day :(. It was nice time there. They were ready with a cake and me cut that while they were singing ...... happy birthday .... . I got some gifts too. I am not going to get another birthday in my B.tech course.
As i always believe we need to improve each and everyday. So i thought to look up on my character itself. As i decided on the day, just before the day ends i sent messages to some of my friends asking what are the things which u like and dislike in me. see the different answers to the second one. Things which they dislike are

over consciousness.
sacrifice likes, dislikes and desires to satisfy others.
At times i take everything too seriously.
getting tensed over silly things.
positive attitude
see the last thing, which is something which he likes and also dislikes in me. Just because each people have something to be get done. so by just hearing something never go behind that expecting i can learn something new. Now i am considering all these seriously and i don't want to hear these faults next time. My readers, i really expect some suggestions from you all.
I am not hiding the things they like, the list goes like this loving nature, commitment, dedication to each other and everything i undertake. concern about everyone, mature and serious outlook towards life, innocence, hard work, value given to friends, sincerity, simplicity, patience.. they made my day. I need to keep these qualities till the end of the journey. I am thankful to the great almighty.
.
# soc project's evaluation is going on. hopefully will get a positive evaluation.
# study leave started, not even started a serious study:(.

will start today itself..
Current Location:

Thrissur

Current Mood:

energetic
---
This year the major inclusion is the
Project days
. visit the website for more info.
http://foss.in/2007/info/Home
.
Current Location:

Thrissur

Current Mood:

busy
---
details
here

.
Current Mood:

cheerful
---